Voucher Codes
A voucher code is a special code that customers may use when purchasing online to get a lesser price and save more. There are thousands of promo codes, voucher codes, and discount codes available in Malaysia for you to choose from and use right now.
Visit CupoNation Malaysia to find promo codes or online shopping coupons. Today, there are hundreds of online retailers and thousands of voucher codes to choose from. Every day, CupoNation Malaysia curates the most recent bargains and offers for you! Simply search for your favourite online stores and redeem the codes by clicking on our vouchers today.
Find the vouchers you want to use, then click on the discount code to bring up a pop-up window. After that, the promo code will be shown, and you can copy it by clicking the "Copy Code" button. You may also return to the promotion page by clicking the "Go to Store" button. To verify that the codes work, read the voucher usage terms before copying.
After adding your items to the checkout page, simply copy and paste the code you copied into the provided column on the checkout page or payment summary page. Some sellers may require you to include the coupon on the product pages as well.
Newsletter
There are many advantages to signing up for the CupoNation Malaysia newsletter:
Each week, you will get the most recent coupon codes and discounts that you can use to save money at your favourite online businesses. You will also get special discount coupons that you may use to save more than with standard coupon codes. Lastly, our newsletter will present the most up-to-date money-saving strategies that may be used on chosen online stores to maximise incentives and perks.

We definitely recommend signing up for the CupoNation Australia Newsletter, so that you will always be up to date with the best and latest deals and discount codes. You can find the sign-up field near the bottom of the homepage or near the middle of any retailer page. Sign up now and receive the top discount codes of your favourite brands straight in your mailbox!
Bank Coupon Codes
Bank coupon codes or promo codes are codes that can only be combined with a specific credit or debit card as a payment method. There are many bank promo codes available on our page, such as from CIMB, Maybank, RHB, Standard Chartered and many others. Some bank codes can also be used on specific days of the week.
These special coupon codes can only be activated once you have selected the correct payment method in accordance with the voucher usage terms. If you have selected the wrong payment method, the voucher code may fail to be applied at the checkout page.
Bank voucher codes are not stackable, however, there are some bank offers which can be automatically activated when you meet the minimum purchase threshold and payment method requirements, such bank offers are often stackable with other promo codes and exclusive coupon codes. Bank offers and promo codes are also stackable with free shipping deals.
Rewards
We have made gift cards from selected online businesses accessible for free as "Rewards". Each award will have its own set of Terms and Conditions. You must also register with your email address before you can receive rewards.
Our general terms and conditions for all rewards are as follows:
Your basket amount must reach the minimum transaction before GST in order to get the gift card.
If the reward code is not claimed within 90 days after being provided, it will expire. It cannot be granted again after it has expired.
This deal cannot be used with any other cashback or coupon code promotion not listed on cuponation.com.my.
To be eligible for the promotion, you must make an online purchase through cuponation.com.my using the link given.
If you click on any other links or websites following cuponation.com.my before making your online purchase, your claim will be null and voided.
Continue with your transaction/purchase on the retailer's site without clicking on any other vouchers after clicking on the reward voucher to verify the reward claim is genuine.
The entire price before GST and any shipping fees will be considered to calculate eligibility for the minimum expenditure.
Gift card purchases do not count toward minimum spending requirements.
During the offer time, the transaction must have taken place online using the cuponation.com.my link. Transactions made over the phone will be deemed invalid and will not be eligible for a reward.
Cancelling or returning any things purchased online renders the claim null and void, and you will not get any Reward Voucher.
After the validation time, if you fulfil the complete requirements of the offer, an email notification will be issued to the email address you used to register with cuponation.com.my.
Each consumer is only eligible for one Reward Voucher.
Purchases must be made in RM or MYR (Malaysia Ringgit).
A registration form will display once you click on a Reward offer. This is the field where you enter your email address. All Reward status updates will be sent through email. Three email status updates will be issued via e-mail (the first e-mail will be sent as soon as you register):


Your registration confirmation
Your purchase has been verified.
The last email contains your reward.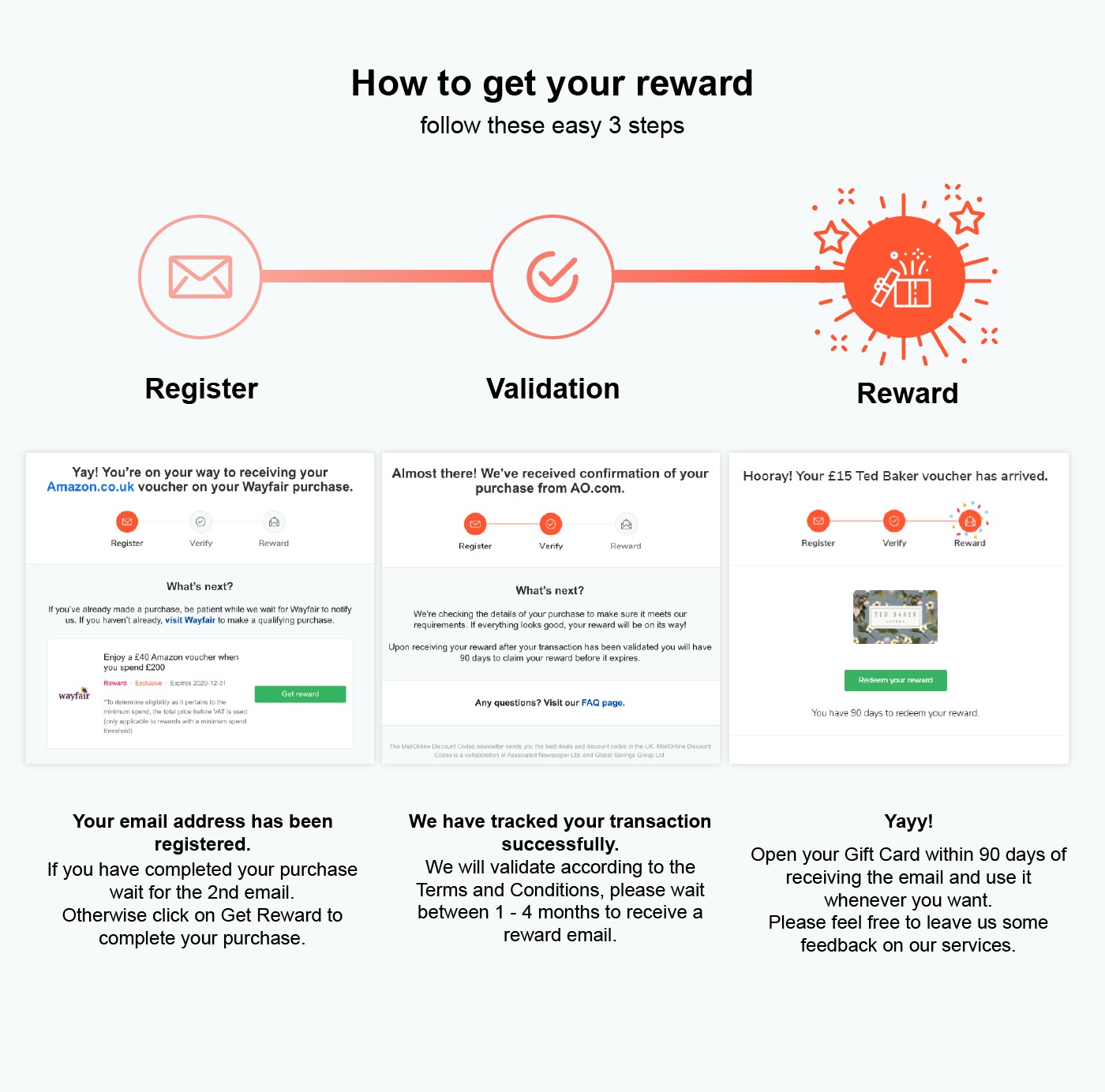 Registered

This initial step confirms that you have successfully registered for your selected deal. You must still finish the transaction (you may alternatively click "GET REWARD" to be sent to the Merchant page to complete the transaction). Don't leave the Merchant page before completing your purchase to guarantee your transaction is monitored. We will need to confirm with the Merchant once the transaction is complete to ensure that all Terms and Conditions of the Reward offer were satisfied.

The following are the causes of a tracking failure:

You did not click on the "GET REWARD" link in the email confirmation.
You left the store page before completing your transaction.
Your browser has cookies deactivated.
You have an ad blocker installed.
You purchased your item with a different coupon or discount.
Use another email address during the transaction

Verifying

This implies that your purchase was tracked successfully and is currently being confirmed by the Merchant. This process will take between 30-120 business days. If you have not satisfied the Terms and Conditions of the Reward offer, cancelled your purchase, or returned some or all of the products in the transaction, your purchase will be considered invalid.

Rewarded

This is the final step, where you will get an email containing the Rewards code. In this stage, all you have to do is enter your code and enjoy the savings! Reward code also has an expiry date, so use it before then.
The Reward validation procedure will take between 30 and 120 business days to complete. Our saving experts will need to confirm that all the Terms and Conditions of the rewards transaction were satisfied. Waiting periods vary based on the offer and Merchant and are subject to change.
You will receive an email with the Reward code after your transaction has been validated. Simply copy the code and paste it into the Gift Card area of the store's checkout page.
Do you have further questions on Vouchers or Reward offers?
Any other questions concerning Rewards should be sent to the CupoNation Malaysia team. CupoNation Malaysia Rewards team assistance is accessible from 9.00 AM to 5.00 PM, Monday through Friday (UTC +8). You can contact us by e-mail at contact.rewards.my@joingsg.com, and our staff will respond to your queries as quickly as possible.